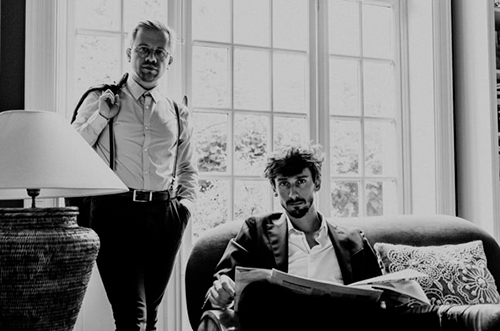 Interview by John Doe (Brandeez Magazine),
Photography by Denys Schelfaut.
_____

Brussels in the summer, it feels like walking in North Sydney, in mid-October. Today though, I am not here to talk about my backpacking experiences in South-East Asia, or about my amazing time in the Andes, flying alongside the great white condor.
No, today I am here to meet two entrepreneurs: Eliott and Antoine.
I am meeting them at 'The Café', level 200 of the IT Slightly Bleue tower in Brussels. The happy duo is already cracking jokes, I think I'll have an interesting lunchtime.

_____
John Doe (JD): Antoine, Eliott, thank you for receiving me. I know you are very busy, traveling from Townsville to Angoulême. Your manager also told me you guys soon have a train to catch to New York, I'll then start right away. Could you simply tell me what you do and who you are?
Eliott (E): We are a branding and creative agency based in Brussels. The company was officially launched in 2016. It all started during a weekend at the beach. It sounds like a romantic comedy, but it's actually true (they laugh like two old friends). We come from different backgrounds: I studied graphic design and Antoine management. But we both had, and still have, a passion for advertising, creative and visual work. By the end of the weekend, we decided to start this new adventure together (laughs). Today, our team consists of five lovely people and we all get along very well … Just great to go to work!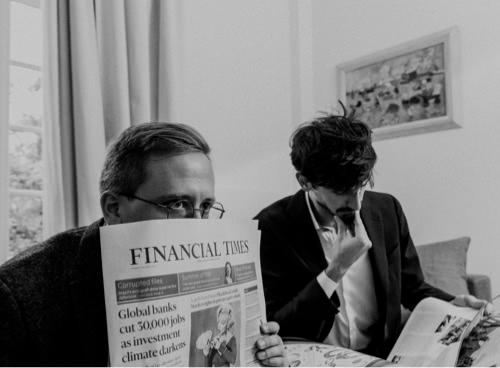 JD: And concretely, what do you create? If I want a new logo, for instance, or a brochure of 200 pages, shall I contact you?
Antoine (A): Yes, of course, John! We create new identities. You are a young startup, or your company needs a new branding? It will be our pleasure to help you. We also develop creative work for existing brands: flyers, brochures, slideshow, websites … It's easy John, if you need anything visual, on any type of channel—print, web, video—,we are here for you. I hope my amazing selling skills blow you away, ahem (laughs).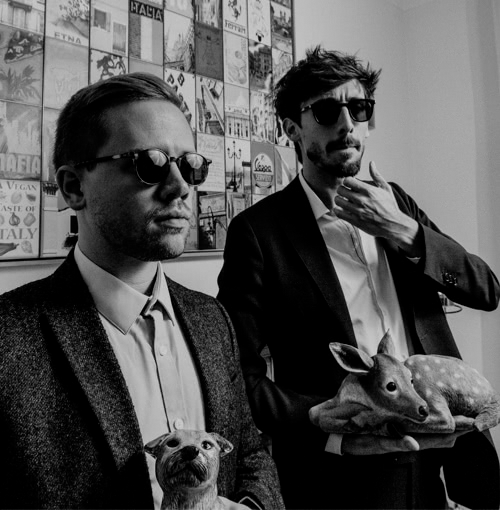 JD: And for this new logo that I need, how does it work? Do we discuss it all together or …?
A: We generally ask our clients to give us first as much information as possible. We read it carefully and then discuss it with them to make sure we really understand their needs. We submit a proposition, listen to feedback, if needed (wink), to offer exactly what the clients want. Our goal is very straightforward: we want to give our best work to our clients.
E: Yes, we want our clients to have a simple and efficient working process with our team. So by getting all the information first and with a clear briefing, we hope to create a smooth and productive process.
JD: Wow, I understand now why your main office is at the top of this tower, and that you opened new offices in 546 countries.
E: Yes John but you know that is not what matters most. Yes, it is nice to have two pools in my private jet, or a jacuzzi in my car, set up by Xzibit. What is really important to remember is that we believe in constructive feedback, transparency and that for any project, everyone is here to achieve the same goal.
JD: Well, thank you guys, I had a fantastic time.
E-A: Likewise John, Likewise.